THEALINGUA® is a team of multi-disciplinary professionals, Thealinguists, trained in the THEALINGUA METHOD, an innovative method of teaching and learning a foreign language through theater.
THEALINGUA takes a keen interest in research and is an active member of various professional networks in the fields of education, language didactics and theatrical practice.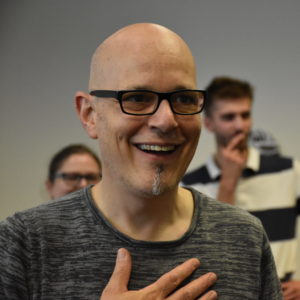 DAMIEN POINSARD
Trainer, theater educator and founder of THEALINGUA
Damien Poinsard is a theater education trainer, director and actor. He has been teaching theater to children and adults since 1995. In Paris, he founded an apartment theater company, Cie Isn't it. In Berlin since 2010, he founded Thealingua in 2014. His pedagogy is based on bodywork, the decomposition / reconstruction of the theatrical act and the predominant role of rhythm, listening and the collective. He seeks to establish a different relationship between the stage and the audience, breaking with conventional relationships through often offbeat staging.

.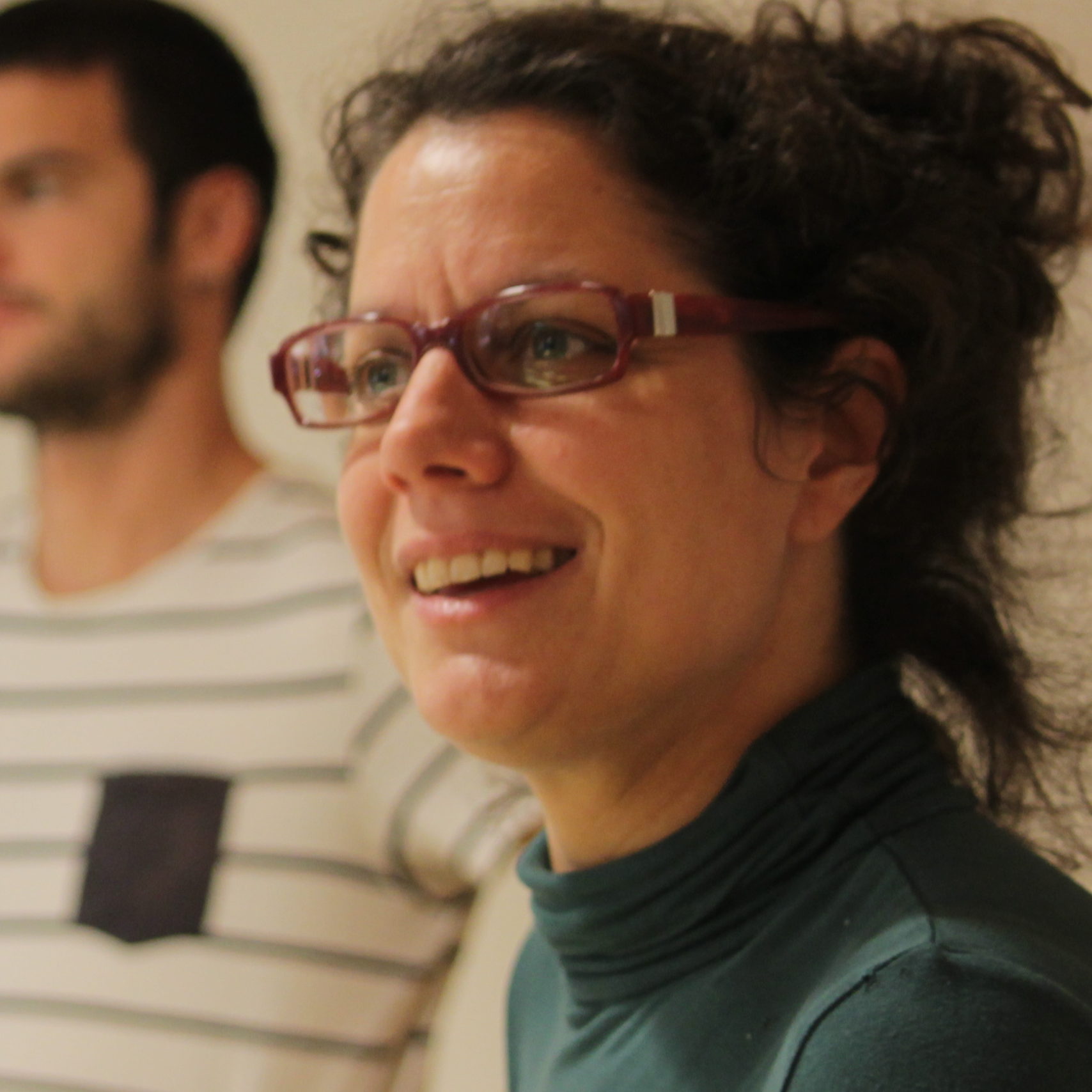 MARJORIE NADAL
Trainer, theater educator and founder of THEALINGUA
Marjorie Nadal is an actress, teacher and trainer specializing in teaching French to foreigners.Since 2003, she has combined teaching French with theatrical art for various international institutions.At THEALINGUA, she supervises projects and works in schools, institutions and universities.At the same time, she is engaged in a reflection on identity and foreign languages, based on a practice of multilingual and Franco-German theatrical improvisation.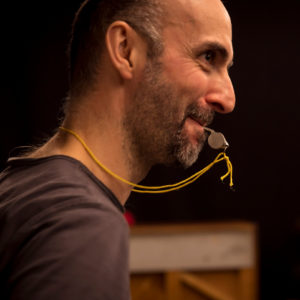 DENIS AUBERT
Actor, translator and theater educator
A translator at the German Foreign Ministry, Denis Aubert has developed a passion for acting and teaching.He has performed and staged dozens of Franco-German improvisation matches since 2011 with Marjorie Nadal (I.M.P.R.O., la Ménagerie e.V.). In 2017, he founded the LIBER (Ligue d'Impro de Berlin). He has also appeared in several short and feature films, including the international comedy "Go with le Flo", in which he plays the title role.Since completing his intensive THEALINGUA training in 2016, he has been combining his taste for transmission, theater and languages with young people.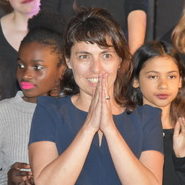 SANDRINE BOURRAIN
French and theater teacher
Sandrine Bourrain is a teacher of Lettres Modernes and Theatre. After studying Lettres Modernes, Philosophy and German, she specialized in Comparative Literature and Performing Arts. From 2001 to 2016, she taught Lettres Modernes and Theater at the Lycée Français de Berlin, teaching the Theater option for the Baccalauréat and Abitur (German Baccalauréat). She also runs theater workshops in junior high schools and elementary school. Since 2016, she has been teaching at Cité Scolaire Stendhal (Grenoble), where she is developing theater teaching in junior high schools. Very attached to project-based pedagogy, in 2018 she embarked on research in Training and Learning Engineering.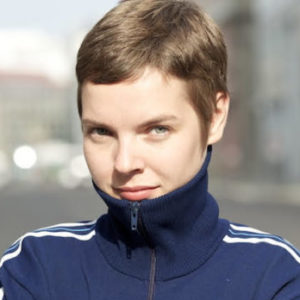 NORA BUSSENIUS
Stage director, actress and teacher
Nora Bussenius studied drama and opera directing at the Bayerische Theaterakademie August Everding in Munich, having previously worked as a theater teacher at the GRIPS Theater, as an actress for theater and television, and as co-director of the basic theater course at the Französisches Gymnasium. She has been a freelance director since 2011 and has worked at HAU Berlin, Staatstheater Darmstadt, Staatstheater Oldenburg, Staatstheater Mainz, Schauspiel Köln, Junges Schauspiel Düsseldorf, Bühnen Chemnitz, MC93 Paris Bobigny, Théâtre de Vidy Lausanne… One of the main focuses of her work is directing for and with children and young people, e.g. as part of TUSCH Theater und Schule, as well as developing world premieres or adaptations of classical material and Christmas fairy tales. norabussenius.de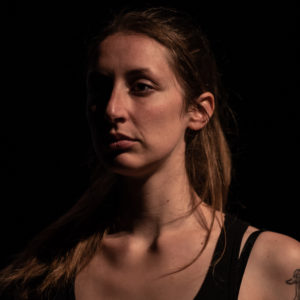 ANAÏS CAILLAUD
Actress and socio-cultural coordinator
Anaïs is constantly on the move, and has a keen interest in popular education, so she obtained a BPJEPS and then a DEJEPS. She then worked with the Cie Les Singuliers Associés as an actress and speaker. At the same time, she is involved in cultural activities for a wide range of audiences, including the elderly and disabled. She strives to maintain high artistic and aesthetic standards, while respecting the playful aspect of the workshops for participants. She guides each group with an empathy that provides a secure, caring framework. With a desire for a European horizon, she joined the Thealingua team in 2018.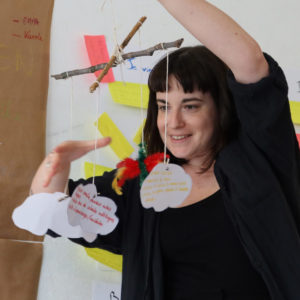 EMMA ROUCHON
Youth worker, ACM director, improvisational comedian
From volunteer activities with the BAFA, to professional activities with a DUT in social careers, to intercultural activities with the OFAJ certificate. In her job as an animator, Emma is interested in the question of how to learn and transmit in a different way. She is a member of the Berlin Improvisation Theatre League (LIBER), which gave her the impetus to combine her skills as an animator with theatrical play and develop this new form of learning, the thealingua method.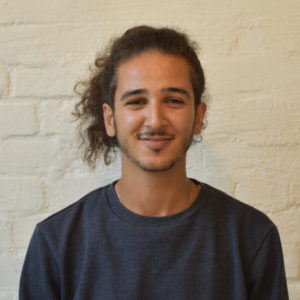 ZINEDDINE SMAIN
Actor, playwright, animator
Zineddine Smain studied dramatic art in Oran, and at the same time became involved in amateur, popular and intercultural theater. Trained as an animator and creative director, he has been involved in a variety of projects, including participatory work camps, artistic residencies and intercultural exchanges. Today, he puts his artistic expertise to work in the field of animation.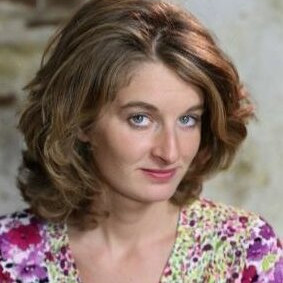 MARA POLACCHI
French and theater teacher
A French teacher for 5 years in Turin's secondary schools, she has always cultivated her creative passions through singing, slam poetry and theater-dance.
In 2023, she took part in the Thealingua training course, and then began the European Erasmus Young Entrepreneur project with Cours et Jardin to discover new, innovative teaching techniques and integrate them into foreign language teaching.
The aim is to offer and develop thealingua workshops in primary and secondary schools in Berlin, opening the door to creative learning of the Italian language. https://www.schauspielervideos.de/fullprofile/schauspieler-jonas-schlagowsky.html.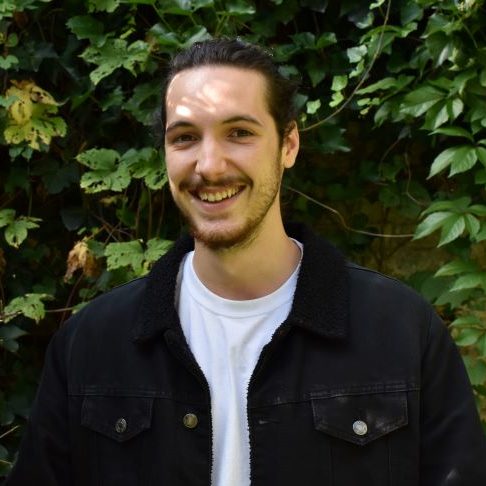 MAXIME BIOTEAU
Actor, animator and theater teacher
Maxime Bioteau is a French teacher from Angers. Passionate about improvisation and animation, he divides his time between French lessons, theater workshops and supervising groups of children of all ages.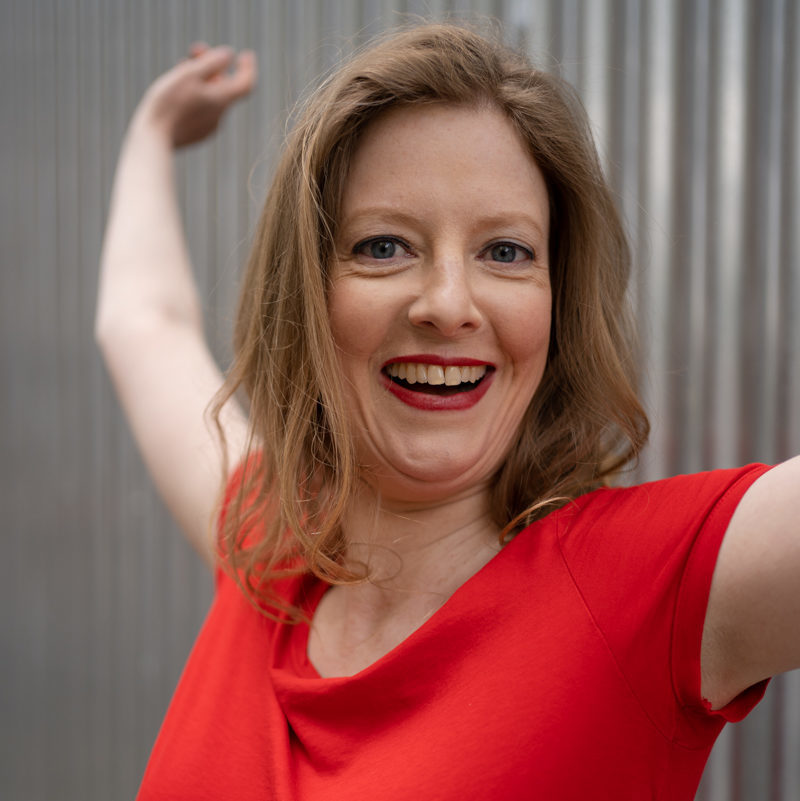 OLIVIA VAN RIESEN
Actress, presenter and teacher
Olivia van Riesen is an actress, animator and teacher. She grew up speaking German and Spanish in Spain, and studied Political Science, History and German Philology (M.A.) in Germany. She discovered her passion for theater in 2012 while doing amateur theater in Spanish in Vienna, Austria, an experience accompanied by further training in German. Her discovery of the theater of the oppressed led her to use theater to promote collective learning. After moving to France in 2019, she worked as a high school German teacher. Today, she launches Thealingua projects in German in Nantes and beyond. Foto: © Megan Hill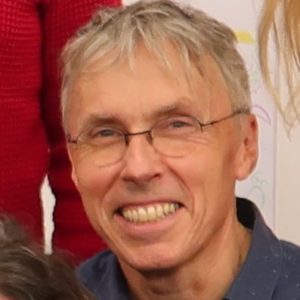 GILLES BUSCOT
Lecturer in Germanic Studies, storyteller, musician
A native of Arras and a lecturer in the German Studies Department at Strasbourg University, Gilles is also a singer-songwriter. Every year, he writes, sets to music and performs several texts, including his bilingual Franco-German short story "Le Récital de Verdun/ Solist in Verdun". For him, Thealingua is the meeting of several of his passions.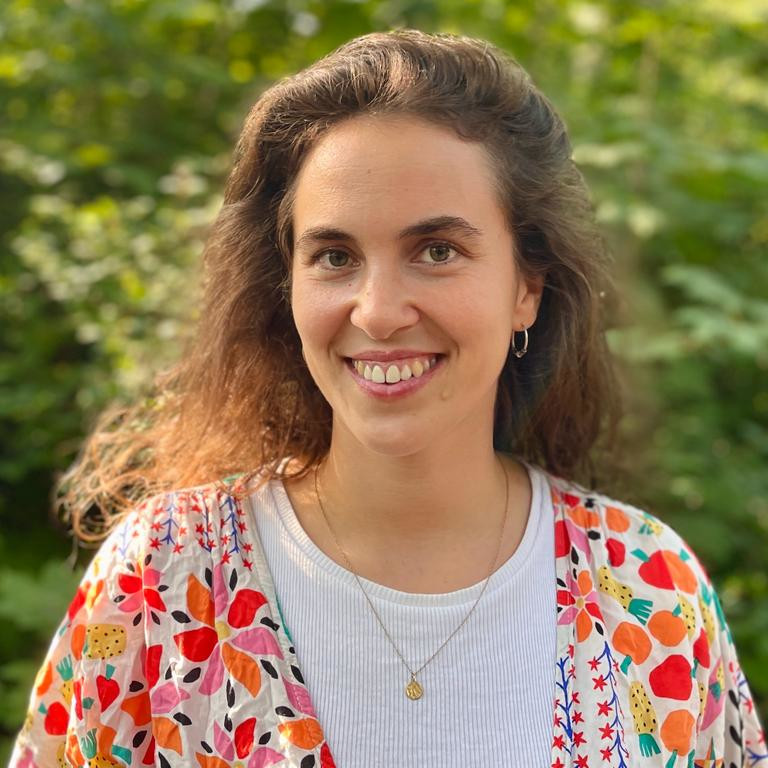 KATHARINA HAGEMANN
Foreign language teacher, theater pedagogue
Katharina Hagemann is a specialist language teacher (German, French, Spanish) and theater pedagogue. She is currently involved in an after-school project focusing on language development for refugee children, as well as running workshops for Thealingua. At the same time, she organizes reading and storytelling workshops for children.
---
Thanks to all those who have contributed their talents to THEALINGUA.
Philippine Guillon, Vincent Simon, Nina Denat, Mathilde Roesch, Sabine Fontaine, Sylvain Fustier, Jennifer Lorenz, Alpa Welsch, Pierre Filliez, Philippe Tibbal, Audrey Micheneau, Marlene Sacher, Sonia Hausséguy, Amandine Thiriet, Claire Gobaille. 
Aillaud Olivier,
Karas Delcourt Marie, 
Loison Demeurisse Louise, 
Polybe 
Axel, 
Chahba
Aicha, 
Feutry
Mathilde, 
Besch
Sarah, 
Gizolme
Karole, 
Le Touze Melanie, 
Girard
Hubert, 
Gilsoul
Hugo, 
Herbig Ulrike, 
Béchard Marie, 
Malric Muriel, 
Garnier Claire, 
Rémendaer Vanessa Valérie, Shlagowsky Jonas, 
Management, Communication, Administration
Damien Poinsard, Thealingua's cofounder
Marjorie Nadal, Thealingua's cofounder,
Anaïs Caillaud, educational manager
Isma Kracheni, APB project manager
Danae Hadjigeorgiou, communications manager
Ambre Jérôme, communications intern
Elias Saadeddine, technical and educational assistant
Thanks to all those who took part in the Franco-German in-house team in France and Germany.
Communication, administration
Camille Kaletka, Liam Bond, Elora Veziat, Manon Etienne, Laura Culioli-Dumas, Clément Pont, Benoit Faedo, Coralie Rubé, Iseult Clauzier, Leman Demir, Joséphine Dusol, Julia Ehrich, Alice Boukouch, Bettina Sund, Marc Abadie, Cécile Boos, Julie Hascal, Charline Gueneau, Lisa Kéloufi.
Sound and Lighting
Hervé Legrand, Jonas Albani